---
'


---
THE
STUDEBAKER
TOYS HOME
PAGE
---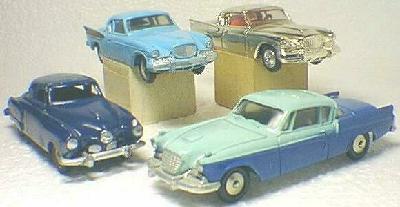 ---
---
The Studebaker Toys Home Page first appeared about ten years ago on free web space. Due to problems with that arrangement, the page has been relocated to Homestead.com which is also the site of my Studebaker web page. Interest in Studebaker toys continues to increase, and many new items have appeared in recent months. The availability of older models on eBay has also helped to fuel interest in collecting Studebaker toys. The pictures on this page are from my collection, readers of the page, and public sources such as eBay auction listings. Information on both old and new Studebaker toys will be added to this page as time allows.
If you would like to contribute material to this page, or if you have any suggestions or comments, please send me a message. Both text and image contributions are welcome.
---
COLLECTIBLE STUDEBAKER TOYS
Marx Plastic Starlight Coupe


Corgi Juniors Wagonaire Ambulance


Buby Collector's Classics Avanti


Johnny Lightning Champ Pickup


Banthrico Golden Hawk


Tootsietoy 1960 Lark Convertible


Goodee 1953 Champion Sedan


Galoob Plastic 1963 Avanti

Much of the fun of collecting Studebaker toys is to be found with older models. My personal collection of Studebaker toys has been assembled over many years. The advent of eBay has helped those of us who seek older models to be able to find them at sometimes reasonable, and sometimes not so reasonable prices. The models pictured above are a mix of items that have been in my collection for many years, along with some more recent eBay finds that I have purchased.
---
1:18 SCALE STUDEBAKERS
Maisto 1953 Studebaker Starliner


Signature 1963 Studebaker Avanti


Anson Classics 1957 Golden Hawk


Yat Ming 1937 Coupe Express


Yat Ming 1950 Champion Coupe

It seems like new issue 1:18 scale Studebakers geared for the collector market just keep coming and coming. Several makers have current issue 1957 Golden Hawks. Bullet nose models are also popular, as is the Coupe Express pickup of the 1930's. The Signature Avanti is available in several colors including black, white, red, and turquouise. Maisto has issued a beautiful 1:18 scale 1953 Starliner Hardtop which is available in light green as shown above and in red.
If you have information on other models, please e-mail me here.
---
OLDIES BUT GOODIES
National Products Starlight Coupe



Jim Geary's book Studebaker Toy Treasures indicates that this is a National Products 1:30 scale 1948 Commander Starlight Coupe. While realtively rare today, this model was available in 11 colors and a number were produced with dealer imprints on the roof. This is consistent with their use as promotional models. I recently won this example on eBay with a bid of $61.66.
Previous Featured Oldies
---
Side Pages
More Studebaker Toy Images
Studebaker Model Kit Box Art
Several manufacturers of plastic model kits have issued Studebakers over the years. Both AMT and Revell have issued variations of the 1953 Loewy Coupe. Jo-Han, which like AMT produced a number of Studebaker dealer promotional models, made both the 1962 Lark convertible and hardtop available in kit form. Most Studebaker models kits are 1:25 scale, which was also the scale used for most dealer promotional models. In recent years, a number of resin kits of Studebakers have become available. These generally require a much higher level of modeling skill to build than the mass market plastic kits.
Some Built Studebaker Model Kits
---
Studebaker Toy Treasures Book

Jim Geary's book Studebaker Toy Treasures is the standard reference collectors of Studebaker Toys. This wonderful book has 294 pages of color pictures and details on hundreds of Studebaker toys. Publication date is 2004 and just about every Studebaker toy and model produced up to that time is pictured and cataloged. Jim is making the book available for the reduced price of $28 plus $10 for shipping. This is a great deal since most vendors sell this book for $39.95 plus shipping. Jim will sign the book if requested. Jim can be contacted at sanjim76@live.com or send payment to Jim Geary, 181 Allendale Hills Road, Franklin, NC 28734.
---
---
Click here to order hard to find Studebaker toys made by manufacturers such as Johnny Lightning, Racing Champions, Hot Wheels, Muscle Machines, and EKO.
Or visit me on Facebook and be my friend!
---
Updated 3/27/2018